Why you should trust Insurance.com
Insurance.com is dedicated to informing, educating, and empowering you to make confident insurance decisions. Our content is carefully reviewed by insurance experts, and we rely on a data-driven approach to create unbiased, accurate insurance recommendations. Insurance.com maintains editorial integrity through strict independence from insurance companies.
From hanging chads in the 2000 presidential election to pythons invading the Everglades, Florida continually surprises with wacky and weird news.
Why should it be any different when it comes to Florida's roadways?
We've got a motorcyclist texting while fleeing police, a guy distracted by a selfie-stick crashing his pickup into a canoe and an assortment of other colorful stories.
Perhaps that's why we Floridians pay some of the highest auto insurance rates in the nation.
While the national average auto insurance premium is $1,311 in 2015, the average Floridian is paying about 33 percent more, or $1,742, according to Insure.com.
"Insurance pays for stupidity, not for intentional damage," says Penny Gusner, consumer analyst for Insurance.com.
Pay attention when you're cruising Florida's roads, and heed the lessons from eight crazy scenarios no matter where you live.
---
1. Watch out for those 'gators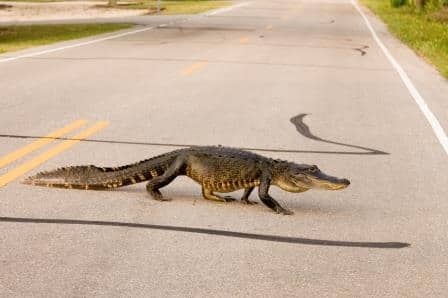 Many of us have been struck by deer crossing the highway, but imagine getting rammed by a gator. No, not a University of Florida football player. A real, live, reptile crawling across the interstate in the middle of the night.
A couple cruising along Interstate 275 near St. Petersburg at 70 mph were rammed by a 12-foot behemoth after it was clipped by a truck and ran into their Toyota Scion.
Concerned citizens should call for more "alligator crossing" signs along Florida's interstates.
Who pays? If a 'gator or other critter hits your car, your comprehensive auto insurance should cover the bill, minus your deductible. Obtaining a police report can help the insurer classify this correctly as a comprehensive claim. "Accidents with animals are usually considered 'not at fault'," so you shouldn't be penalized and receive a car insurance rate hike. But if another alligator crosses your path this year, having multiple accidents and claims could boost your rates.
---
2. Don't do doughnuts on the jail lawn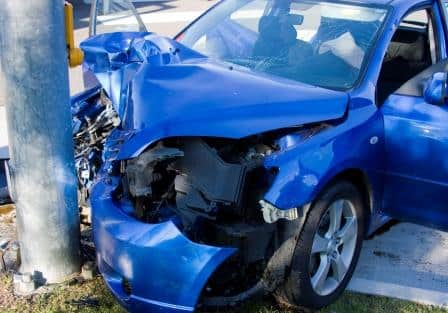 There's the old stereotype that cops love doughnuts, but they don't love them when you're using your car to do them on the jailhouse lawn.
That's what a Florida man found out after repeatedly being told by sheriff's deputies to move his SUV, which he'd parked on the sidewalk in front of the Hernando County jail.
He first backed up and rammed his car into a bench, then drove through the landscaped lawn before hitting a flagpole. When he finally got out of the car, he was tackled by deputies and charged with criminal mischief and resisting an officer.
Who pays? Driving erratically and crashing into a pole may result in damage to your vehicle and the pole, Gusner estimates. Collision insurance pays for repairs to your car from colliding with objects (such as a pole) and liability insurance could cover the damaged pole, she explains. "However, if you're doing doughnuts and deliberately hit a pole in hopes it will fall on a police car - not covered." Plain and simple, deliberate damages are not covered by your car insurance policy.
---
3. Be more self(ie)-aware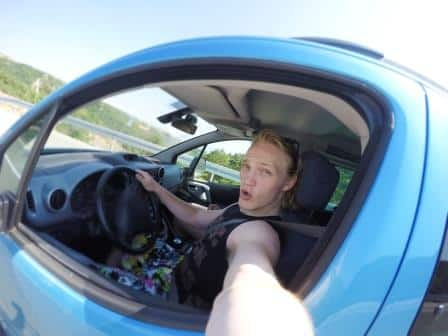 That's the message a Florida man had for other motorists after he drove down a dirt road in Orange County on his way to an alligator hunt and became distracted by the selfie-stick he was using to video his journey.
He didn't notice that the pickup truck in front of him, with a canoe jutting out the back, had slowed down. It quickly got his attention when the canoe smashed his Jeep's windshield.
At least the Port Orange chiropractor took the lesson to heart - sharing video of his wreck on YouTube and posting on Facebook: "This is why you shouldn't text and drive or try to take a selfie and drive. This is a PSA!"
Who pays? If you get in a wreck while texting and driving (or taking a selfie and driving) your auto insurer should still cover the damages, but having the accident may raise your rates, Gusner cautions. Comprehensive coverage should take care of windshield damage in this type of incident. If the driver damaged the car in front of him, or the canoe, his liability coverage would be expected to pay. The accident would be considered at-fault and if you receive a distracted driving ticket, expect your rates to rise at your next renewal period.
---
4. Don't text while you're fleeing police on a motorcycle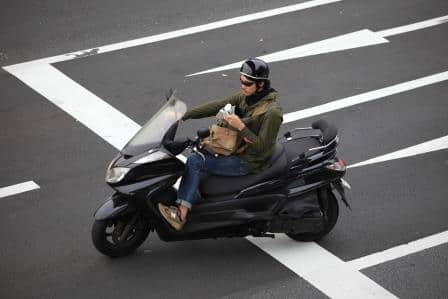 Automakers tout hands-free communication when you're on the road, but it's probably not the smartest move when you're riding a motorcycle and fleeing the cops.
Martin County Sheriff's deputies tried to stop a motorcyclist driving erratically on I-95. Even a police helicopter got into the pursuit, filming the motorcyclist as he raced down the road using both hands to text and drive.
The chopper finally managed to force the driver onto the shoulder of the road.
Who pays? In this scenario, with no vehicle or property damage, the driver is on the hook for any fines and humiliation. A good thing too since most auto and motorcycle policies have an exclusion for criminal acts, such as fleeing or evading police. The moving offenses he racked up are likely to affect his future motorcycle insurance premiums - and car insurance rates as well since a person's driving record is considered in both policies. Risky operation of a motorcycle causes car insurance companies to be concerned that you may also be a risky auto driver.
---
5. Don't drive tip-sy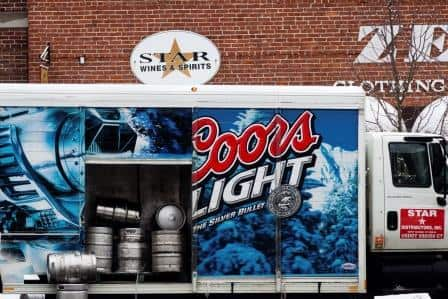 A beer truck driver cruising along I-75 in Hernando County lost control of his big rig, hit a guardrail and tipped over, spilling Bud Light cans across the interstate.
The highway was closed for hours as workers cleaned up the foamy mess.
And no, the driver hadn't been imbibing on his cargo. He said he was distracted by his dog, who was riding shotgun. He was cited for careless driving.
Who pays? Vehicle damage would be covered by the beer truck owner's commercial insurance policy. The guardrail would be covered by the liability insurance portion of the commercial policy, and likely the cleanup might be billed to that as well. The driver must pay a careless driving citation. A careless driving ticket is worth 4 points in Florida and considered by some insurers to be a major violation. A major violation raises rates more than a minor one; our "Uh-Oh" meter says the average rate increase is about 16 percent. Since the ticket is now on his driving record, this incident will probably affect his employer's commercial policy rates and the driver's personal auto insurance.
---
6. Don't drive like you're in an action film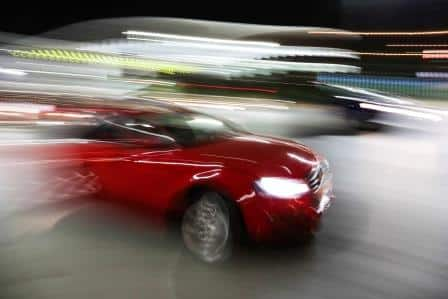 The driver of an SUV crashed through the gate of a drawbridge as it was starting to rise and sent his vehicle airborne over the gap.
Palm Beach Police say the man was fiddling with his GPS and didn't see the bridge going up.
Neither the driver nor his passenger was hurt, but his SUV and the bridge didn't fare so well, and both needed repairs.
Who pays? If you drive over a drawbridge as it starts to rise, or accidentally crash your car into a building, and you have the proper insurance, the damage should be covered, Gusner says. The drawbridge damage would be covered by your liability insurance and your vehicle's damage by collision coverage, since you collided with an object.
---
7. Keep your cool
A man suspected in a road rage incident accidentally shot himself, according to Lee County sheriff's deputies.
The armed driver had brandished a gun at a woman driving with three teens in her car. The gun discharged, shooting its owner.
The driver crashed after shooting himself, and deputies found both a rifle and a handgun in the car.
Who pays? Although insurance for acting like an idiot can't be purchased, collision coverage may cover damage to the driver's vehicle that crashed as a result of the accidental gunshot. His gunshot injury may be covered by personal injury protection (PIP) since it did occur while he was driving the vehicle. However, if the insurer finds the driver was committing a criminal act at the time of the incident, the claims could be denied.
---
8. Pay your auto insurance online or by mail
An elderly woman in Volusia County may be paying her car insurance bill online or by mail from now on.
As she was pulling up outside the Acceptance Auto Insurance office to pay her bill, she accidentally hit the gas, rather than the brake, and slammed into the building. Fortunately, no one was injured in the crash.
Who pays? Assuming the woman had up-to-date car insurance coverage at the time of the accident, her liability insurance would pay for damage to her insurance company's building. As for her vehicle, if she had collision as part of a valid auto policy, its damages would be covered, less the deductible amount.
---
You're probably covered, but your rates may rise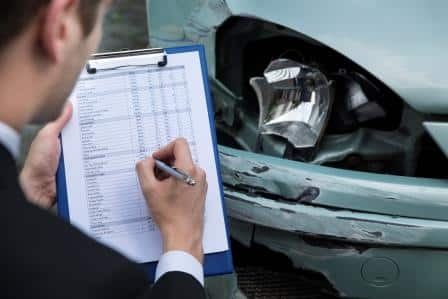 In most cases, your auto insurance kicks in to cover your mistakes. Liability insurance, required by state laws, covers others that you injure or their damaged property. For your vehicle to be covered, you must carry optional comprehensive and collision coverage. If you're viewed as "at fault" in a claim, it's likely that the premium will increase upon your policy's renewal.
Even in the most serious case, such as a drunken driving escapade, your insurance isn't typically voided if you get in a wreck. But having a DUI on your record could boost your auto insurance rates by 100 percent or more.
No matter which state you call home, drive smart, drive safe, and drive sober.
You might also be interested in
Helpful Auto Insurance Articles & Guides