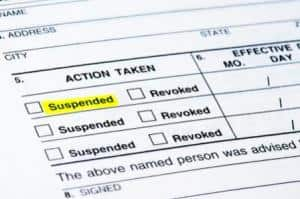 All U.S. states, the District of Columbia and Canadian provinces allow suspension of driving privileges for at least some non-highway safety reasons.
Forty-three of those jurisdictions responded to a 2013 survey by the American Association of Motor Vehicle Administrators (AAMVA) gathering information on local laws. Every one of them, for example, allowed a license suspension for failure to pay child support. Three -- California, Florida and Saskatchewan -- suspend those convicted of soliciting a prostitute.
Suspensions related to DUI or multiple violations or to a lapse in coverage typically force drivers into high-risk auto insurance policies. Brief administrative suspensions probably won't, if the problem is addressed quickly and the driver isn't ticketed for driving on a suspended license during that period.
A suspended license makes insuring a car difficult, because insurance companies require a driving record to calculate car insurance rates. (See "Car insurance with a suspended license.") For most drivers, the path toward driver's license reinstatement includes an SR-22 filing from your insurance company.
Laws are specific to each state, but AAMVA has grouped them together in these buckets, followed by the states and/or provinces that allow suspensions for that reason.
Abandoned Vehicle: NY
Advocate Overthrow of Government: NY
Altering, Defacing Signs/Signals: SC
Assaulting a Traffic Officer: NY
Assembling / Operating Amusement Park Ride While Intoxicated: TX
Auto / Cargo Theft: CA, GA, MN
Boating While Intoxicated: TX
Bomb Threat / Volatile Chemical: MI, NY, TX
Bounced / Bad Check: AR, CO, FL, LA, ME, MD, MN, NB, RI, UT, VT
Buy/Sell Liquor without a License: AZ
Child in Need of Services: NH
Controlled Substances: AR, GA, IN, IA, MI, MN, MT, NY,OR, PA, TN,TX, UT, VA
Department of Health Overpayment: TX
Dispensing Gas to a Dirt Bike: MD
Failure to Appear / Comply / Pay (non moving violations): AZ, AR, CT, FL, HI, ID, IA, LA, ME, MI, MT, NB, NH, NF, OR, SK, TX, UT, VA, WI, WV
Failure to Complete Education Program: CT, SC, TX, VT
Failure to Obtain Hack License: NY
Failure to Pay Alimony: NE
Failure to Pay Child Support: AZ, AR, CA, CO, CT, FL, GA, HI, ID, IL, IN, IA, LA, ME, MD, MI, MN, MO, MT, NB, NH, NM, NY, NF, ND, OH, ON, NT, NE, OR, PA, SK, SD, TN, TX, UT, VT, SC, VA, WA, WI, WY, WV
Failure to Pay Parking Violation(s): IL, MI, MN, RI
Failure to Pay Tax: LA, OR, SC, VT
Failure to Pay Tolls: IL, ME
Failure to Submit to Genetic Test : FL
False Public Alarm: VT
Felony :MT
Fictitious Plate/Registration/Inspection: CT, TX
Flying While Intoxicated: TX
Fraud / Misuse of a Driver License: AR, CA, CO, FL, GA, ID, LA, MI, MN, MT, NB, ND, OR, PA, RI, SK, SD, UT, WA, WI, WV
Fuel Piracy / Theft : AR, CO, FL, GA, IL, IN, IA,LA, MD, MI, MN, MO, MT ND, OH, OR, PA, SC, TN, TX, UT, WA, WV
Handicap Space / Placard Violation: AR, IL
Immigration / Visa Expiration: MN, TX
Identity Theft: CT
Littering / from a Motor Vehicle: AR, OR
Minor - Alcohol Possession / Consumption: AR, CA, CO, CT, GA, ID, IN, IA, MD, MI, MT, NH, NM, OH, OR, PA, RI, SC, SD, TN, TX, UT, VT, VA, WA, WI
Minor - Controlled Substances: CA, IA, WA
Minor – Using False ID to Purchase Alcohol: IN, MD, MI, NY, TN, TX, VT, VA
Minor – Possession of a Firearm: AZ, CA, FL, VA, WA
Minor – Tobacco Violation: OR, TX, VT
Minor in a Bar: UT
Open Container / Possession – Passenger: FL, IL, MI, MN, NM
Outstanding US District Court Citation: MD
Parental Withdrawal: CO, GA, IA, MN, ND, TX, VT, MO, MT, SC, UT
Perjury: OH
Prostitution / Solicitation / FTA John School: CA, FL, SK
Providing False Info to Law Enforcement: MI
Public Intoxication / Consumption: IA, TX
Sell/Buy Alcohol to/for a Minor: MN, SD, TX, VT, VA, WY
Sex Offender Violation: NH, TX
Soliciting with HIV: OH
Solid Waste Burning: VT
Theft: FL
Tow Truck Driver Graft: CA
Truancy / Failure to Attend School: AZ, CA, FL, GA, ID, IL, IA, LA, NM, OH, OR, PA, TX, VA, WI, WV
Unattended Child in a Running Auto: WA
Unpaid College / Student Loan: IA, MT
Unruly Child / Juvenile Suspension: OH
Use of MV to Distribute Tobacco: ON, QB
Vandalism / Graffiti: CA, FL, TX
Weapon / Threat in School: AR, IN, IA, OH, OR, PA, TN, VA