Why you can trust Insurance.com
Insurance.com is dedicated to informing, educating, and empowering you to make confident insurance decisions. Our content is carefully reviewed by insurance experts, and we rely on a data-driven approach to create unbiased, accurate insurance recommendations. Insurance.com maintains editorial integrity through strict independence from insurance companies.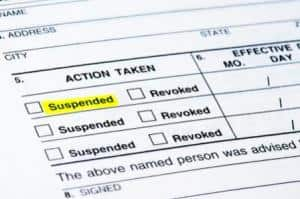 All U.S. states, the District of Columbia and Canadian provinces allow suspension of driving privileges for at least some non-highway safety reasons.
Forty-three of those jurisdictions responded to a 2013 survey by the American Association of Motor Vehicle Administrators (AAMVA) gathering information on local laws. Every one of them, for example, allowed a license suspension for failure to pay child support. Three -- California, Florida and Saskatchewan -- suspend those convicted of soliciting a prostitute.
Suspensions related to DUI or multiple violations or to a lapse in coverage typically force drivers into high-risk auto insurance policies. Brief administrative suspensions probably won't, if the problem is addressed quickly and the driver isn't ticketed for driving on a suspended license during that period.
A suspended license makes insuring a car difficult, because insurance companies require a driving record to calculate car insurance rates. (See "Car insurance with a suspended license.") For most drivers, the path toward driver's license reinstatement includes an SR-22 filing from your insurance company.
Laws are specific to each state, but AAMVA has grouped them together in these buckets, followed by the states and/or provinces that allow suspensions for that reason.
Abandoned Vehicle: NY
Advocate Overthrow of Government: NY
Altering, Defacing Signs/Signals: SC
Assaulting a Traffic Officer: NY
Assembling / Operating Amusement Park Ride While Intoxicated: TX
Auto / Cargo Theft: CA, GA, MN
Boating While Intoxicated: TX
Bomb Threat / Volatile Chemical: MI, NY, TX
Bounced / Bad Check: AR, CO, FL, LA, ME, MD, MN, NB, RI, UT, VT
Buy/Sell Liquor without a License: AZ
Child in Need of Services: NH
Controlled Substances: AR, GA, IN, IA, MI, MN, MT, NY,OR, PA, TN,TX, UT, VA
Department of Health Overpayment: TX
Dispensing Gas to a Dirt Bike: MD
Failure to Appear / Comply / Pay (non moving violations): AZ, AR, CT, FL, HI, ID, IA, LA, ME, MI, MT, NB, NH, NF, OR, SK, TX, UT, VA, WI, WV
Failure to Complete Education Program: CT, SC, TX, VT
Failure to Obtain Hack License: NY
Failure to Pay Alimony: NE
Failure to Pay Child Support: AZ, AR, CA, CO, CT, FL, GA, HI, ID, IL, IN, IA, LA, ME, MD, MI, MN, MO, MT, NB, NH, NM, NY, NF, ND, OH, ON, NT, NE, OR, PA, SK, SD, TN, TX, UT, VT, SC, VA, WA, WI, WY, WV
Failure to Pay Parking Violation(s): IL, MI, MN, RI
Failure to Pay Tax: LA, OR, SC, VT
Failure to Pay Tolls: IL, ME
Failure to Submit to Genetic Test : FL
False Public Alarm: VT
Felony :MT
Fictitious Plate/Registration/Inspection: CT, TX
Flying While Intoxicated: TX
Fraud / Misuse of a Driver License: AR, CA, CO, FL, GA, ID, LA, MI, MN, MT, NB, ND, OR, PA, RI, SK, SD, UT, WA, WI, WV
Fuel Piracy / Theft : AR, CO, FL, GA, IL, IN, IA,LA, MD, MI, MN, MO, MT ND, OH, OR, PA, SC, TN, TX, UT, WA, WV
Handicap Space / Placard Violation: AR, IL
Immigration / Visa Expiration: MN, TX
Identity Theft: CT
Littering / from a Motor Vehicle: AR, OR
Minor - Alcohol Possession / Consumption: AR, CA, CO, CT, GA, ID, IN, IA, MD, MI, MT, NH, NM, OH, OR, PA, RI, SC, SD, TN, TX, UT, VT, VA, WA, WI
Minor - Controlled Substances: CA, IA, WA
Minor – Using False ID to Purchase Alcohol: IN, MD, MI, NY, TN, TX, VT, VA
Minor – Possession of a Firearm: AZ, CA, FL, VA, WA
Minor – Tobacco Violation: OR, TX, VT
Minor in a Bar: UT
Open Container / Possession – Passenger: FL, IL, MI, MN, NM
Outstanding US District Court Citation: MD
Parental Withdrawal: CO, GA, IA, MN, ND, TX, VT, MO, MT, SC, UT
Perjury: OH
Prostitution / Solicitation / FTA John School: CA, FL, SK
Providing False Info to Law Enforcement: MI
Public Intoxication / Consumption: IA, TX
Sell/Buy Alcohol to/for a Minor: MN, SD, TX, VT, VA, WY
Sex Offender Violation: NH, TX
Soliciting with HIV: OH
Solid Waste Burning: VT
Theft: FL
Tow Truck Driver Graft: CA
Truancy / Failure to Attend School: AZ, CA, FL, GA, ID, IL, IA, LA, NM, OH, OR, PA, TX, VA, WI, WV
Unattended Child in a Running Auto: WA
Unpaid College / Student Loan: IA, MT
Unruly Child / Juvenile Suspension: OH
Use of MV to Distribute Tobacco: ON, QB
Vandalism / Graffiti: CA, FL, TX
Weapon / Threat in School: AR, IN, IA, OH, OR, PA, TN, VA