Why you should trust Insurance.com
Insurance.com is dedicated to informing, educating, and empowering you to make confident insurance decisions. Our content is carefully reviewed by insurance experts, and we rely on a data-driven approach to create unbiased, accurate insurance recommendations. Insurance.com maintains editorial integrity through strict independence from insurance companies.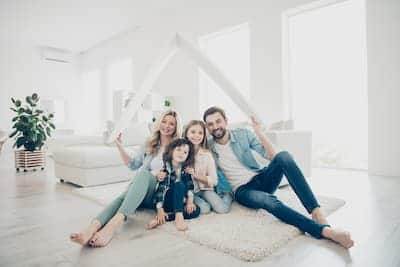 You're a first-time homebuyer, and you've searched for the perfect house for months. The homeowner accepts your offer, and now you have to learn about a topic that might not be as fun as home-shopping, but it's vital -- home insurance.
You're required to carry home insurance by your mortgage company. It protects the lender's investment in the house, but it also protects you and your investment.
If you're buying your first home, you may have previously bought condo or renters insurance. There are similarities with home insurance, such as personal property coverage, but there are differences as well. The major difference is that you have to protect the house itself.
Below, we will take you through what home insurance covers and give you tips, so you're a home insurance expert. By the end of this article, you should be more confident about buying your first home insurance policy.
When should you get homeowners insurance when buying a new house?
You will need to have insurance in place before the mortgage closing. It's a good idea to shopping for new home insurance as soon as you sign a contract.
After you've signed the contract, you will have around 30 days before closing. This gives you time to research homeowners insurance providers, get multiple quotes, and select the right policy for your needs before closing day. Your new home insurance provider will supply you with proof of insurance called a binder, that you will provide the mortgage lender before closing.
What homeowners insurance covers
The most basic home insurance policy usually covers at least five coverage areas:
Dwelling coverage -- this is what covers your home.
Other structures -- this is what covers detached structures on your property.
Personal property coverage -- this is what covers the property within your home.
Liability coverage -- this is what covers you in case a visitor suffers a serious injury and sues you.
Additional living expenses -- this is what covers you in case your home is uninhabitable, and you need to live elsewhere.
Types of homeowners insurance coverage
Here is a more detailed description of the five most commonly included coverage areas in a homeowners insurance policy.
Dwelling coverage
The dwelling portion of home insurance covers your home and attached structures, such as a garage.
Home insurance will cover you if you need to file a claim for a "covered peril." Covered perils include:
Fire and smoke damage
Windstorms
Hail
Lightning strikes
Vandalism and malicious destruction
Theft
Damage from a vehicle
Damage caused by the weight of snow, sleet or ice
Dwelling coverage isn't just for the physical structure. It also covers wiring, plumbing, and heating and cooling systems.
Other structures
Other property insurance covers structures on your property that aren't attached to your home. Other property includes a detached garage, a shed, or a fence.
Personal property coverage
Personal property coverage, also called contents coverage, covers the property within your home, including:
Furniture
Electronics
Appliances
Clothing
You can choose replacement value or actual cash value for your personal property. Here are the differences:
Reimbursement value reimburses you the full amount to replace items if they are stolen or damaged; actual cash value reimburses you the amount the items are worth now after years of depreciation.
Replacement value is more expensive than actual cash value.
Let's say a burglar steals your five-year-old flat-screen TV. If you have replacement value coverage, your insurance company reimburses you the money to buy the same type of new TV. Actual cash value gives you what your five-year-old TV is worth after five years of use.
If you have expensive items, you may need a separate endorsement for valuables. You add an endorsement, also called a rider, to your insurance policy to protect valuable property. An endorsement can include jewelry, fine art, guns, and sports memorabilia.
When requesting a home insurance quote, ask whether you should add your expensive items under a separate endorsement.
Home liability insurance coverage
Liability insurance covers you for visitor injuries on your property. Liability insurance covers not only a legal settlement but also your legal fees (up to your liability limit).
According to Donald Griffin, vice president of personal lines for the Property Casualty Insurers Association of America (PCIAA), many liability insurance policies will cover you even if an incident happens away from your home.
He recommends buying an excess liability or an umbrella policy that offers coverage of $1 million beyond your home insurance and car insurance policy coverage. These policies are relatively inexpensive, often costing $200 to $300 per year.
"You don't want to lose your home because you failed to buy an insurance policy," says Griffin.
Medical payments also helps to pay for guests who are injured in your home, and you should know the difference between medical payments and liability insurance. Medical payments pays out, typically in limits of $1,000 or $5,000, for injuries regardless of who is at fault, and is for minor incidents.
Additional Living Expenses (ALE)
ALE, also known as loss of use coverage, covers you if your home is damaged and you have to live somewhere else while it's repaired. ALE coverage includes paying for hotel rooms and meals while you're displaced.
If a fire damages your home, you can make a claim for ALE coverage by submitting paperwork documenting your living expenses.
The ALE standard for most homeowner insurance policies is a benefit worth 20% of your home's replacement value. When you get a home insurance quote, find out if the policy specifies any limitations or exclusions on ALE.
How much homeowners insurance do I need?
Now you know the different home insurance coverages you'll need as a new homeowner. But how do you decide how much coverage to get? Even if you're familiar with how home insurance works to protect you, it can still be challenging to figure out how much you need.
To help you decide how much coverage you need, as difficult as it is to do, imagine that your new home is destroyed and you are faced with rebuilding the home and replacing your belongings. These are the costs you are insuring, and recommended amounts:
Dwelling coverage: Your new homeowners insurance policy's dwelling coverage amount needs to be as close as possible to what it would cost to rebuild the home or the home's replacement value.
Personal property coverage: This coverage amount should be between 50% and 70% of the dwelling coverage.
Liability coverage: Most homeowners policies include $100,000 worth of liability coverage, but $300,000 is recommended.
Additional Living Expense coverage: ALE coverage should be about 20% of the home's replacement value.
How to estimate the value of your personal property
Here is how you can calculate how much the contents of your house is worth:
Take a home inventory by filming or taking pictures of all your belongings. Your personal property does NOT include anything that is attached to a utility, such as large appliances. You can use the National Association of Insurance Commissioners home inventory app.
Your personal property does include everything else, from shoes to dishes to rugs and other items.
Think about how much it would cost to replace these things at today's prices, and write down the estimated cost for each item.
If you have receipts for any of your belongings, also take pictures of those.
Take notes on when and where you bought your more valuable items, such as computers, cellphones and TVs, and write down the model numbers.
Add all the costs up to get a total.
Buy dwelling insurance for your home's replacement cost
One of the most common first-time homebuyer mistakes is: confusing a home's market value with its replacement cost. Your home insurance coverage should cover the cost of rebuilding your house.
"With an existing home, look at the replacement cost rather than the market value," says Griffin.
Going the replacement cost route is often less than what you paid for your home; if you're insuring your house for its market value, you may be over-insuring it. Over-insuring also means overpaying. You have enough fees and charges as a new homeowner -- you don't need to overpay for insurance.
Most home insurance companies use software to determine the replacement cost. The software allows them to enter your home's features and calculate the cost of replacement. Also, most policies include coverage for up to 125% of the replacement cost.
You don't want to overpay, but you don't want to underpay either. You might be tempted to purchase less coverage. In that case, you might take on too much risk by inadequately covering your home. Learning how to calculate your home replacement or value is important, and typically can be done by using online tools, calculating it yourself or by hiring an appraiser.
How much is homeowners insurance?
As a future new homeowner, the costs associated with buying a new home are probably at the top of your concerns. Included in those costs is the cost for home insurance.
It is important to understand the difference between a deductible and a premium. Think of a premium as the amount of money you pay the insurance company to provide your home insurance policy. The premium is owed by you to the insurance company each year in order to maintain the policy.
The deductible is what you have to pay for repairs if your insurance company approves your claim. It's your share of the repair cost. We'll talk more about deductibles later.
The national average rate for $300,000 in dwelling and liability coverage with a $1,000 deductible is $2,777. Your rates will depend on a wide variety of factors including where you live and the size and construction of your home, Average home insurance rates by state vary widely, and the part of the state you live in matters, too.
Choose a homeowners insurance deductible
The deductible, unlike the premium, is only payable by you if you file a claim that gets approved. Remember, the deductible is your share of a repair cost you've filed a claim for.
There is an inverse relationship between the homeowners insurance premium and deductible. The higher the deductible, the lower the insurance premium. If you have a $500 deductible, you're going to pay more on your premiums than if you have a $2,000 deductible.
Going with a higher deductible will save you money. It will also reduce your home insurance claims. That's why it's important to know the trade-off you're making – and be comfortable with it -- when choosing a home insurance deductible.
Let's look at an example: a pipe bursts and dumps a few gallons of water on your floor before you quickly turn off the water to your home and call a plumber.
You get an estimate and find that you will need to have the floor and ceiling repaired. It will cost about $700.
Your deductible is $1,000. In this case, you wouldn't file a claim because your deductible is more than the needed repairs.
The same goes for if the damages cost slightly more than your deductible. It's not worth filing a claim if it raises your rates, costs you more in the long run through higher premiums and it goes onto your claims record.
Is homeowners insurance cheaper on newly built homes?
The short answer here is, yes. Homeowners insurance is typically less expensive on newly constructed homes. In fact, in a rate analysis we discovered that homeowners insurance for newly constructed homes is an average of 35% less than for existing homes due to discounts offered by insurance companies.
But why? Homeowners insurance companies like newly built homes because they're new and most often, everything in them is new. For the insurance company, that means there is a lower risk of a claim being filed than if the home was older.
Do I need new home construction insurance?
If you are going to build a new home, it is important to get proper insurance coverage before construction begins. The best time to do this is at the same time you get quotes for the new home. Builder's risk insurance also called course of coverage insurance, is intended to provide necessary insurance protection while your home is under construction. Depending on your situation, an insurance company may recommend a homeowners insurance policy that is more like a standard policy, except it lacks personal property coverage. Personal property coverage can be added on once construction is complete or you are living in the home.
Home insurance discounts
Home insurance companies provide dozens of home insurance discounts, and you may qualify for many of them.
Some of the most common discounts are:
Bundling (also called multi-policy)
Loyalty
Claims-free
Security system
Automatic payment
Check insurance companies' websites to get a list of discounts. Do you qualify for any?
Bundling insurance policies is an easy way to save money on your insurance. Insurers give discounts if you bundle policies, which means getting multiple insurance policies from the same insurer.
You can bundle home, auto, renters, motorcycle, and some companies even offer life insurance.
When shopping for home insurance, you may have to balance discounts. You could find one insurer has a generous bundling discount, but another insurer may offer more discounts for which you qualify.
Rather than focusing on the number of discounts, ask insurance companies for full quotes. That way you can compare annual insurance premiums side by side.
How credit score influences your insurance rate
Insurers in nearly all states use credit scores as a factor when determining home insurance rates. What does credit score have to do with insurance? Insurance companies believe that a person's credit history is a glimpse into a person's risk.
In other words, insurers believe that people with poor credit are more likely to file claims.
That can play a huge factor in your rates. We found that the national average percentage increase for homeowners with bad credit is 127% more than those with excellent credit. That equals a difference of $1,703. Homeowners with fair credit pay on average 34% more than those with excellent credit. That's a $425 difference.
So, make sure you stay on top of your credit before buying a new home or you'll likely pay more for home insurance.
Get a CLUE Report
Insurers base your rates on both your claims history and your home's claims history -- before you even lived there.
You should request a Comprehensive Loss Underwriting Exchange (CLUE) Report for your new home to see the claims that the homeowner filed. Insurance companies are all about preventing risk. If they see that the home had multiple claims in the matter of a few years, you will pay higher rates. An insurer may even decline coverage.
Find out what your policy doesn't cover
Read the exclusions section of your home insurance policy. Understanding what the insurance won't cover is just as important as knowing what the insurance will cover - before you have to make a claim.
You also don't want to file a claim for damage that your policy doesn't cover because it will go onto your claims record. So, in that case, you won't get reimbursement, and it could lead to higher rates because you filed a claim.
For instance, an insurance company might not provide windstorm insurance if you live near the ocean. In that case, they may exclude coverage. You can buy additional windstorm insurance if your policy doesn't cover you. This type of insurance has a separate deductible, in addition to home insurance.
Home insurance doesn't cover flood damage
One of the biggest home insurance misconceptions is about flood coverage. Home insurance doesn't cover flood damage. We aren't talking about flooding caused by a burst pipe, but about flooding caused by natural disasters.
Instead, you need to buy a separate flood insurance policy to cover you for damages caused by outside flooding. The National Flood Insurance Program (NFIP), which the Federal Emergency Management Agency oversees, runs the flood program.
Flood insurance covers:
The structure
Electrical and plumbing systems
Carpeting and flooring
Appliances
Personal property, such as furniture, small appliances, rugs, clothing, furniture, and electronics
Valuable items, such as artwork and jewelry, up to $2,500
Floods are the number one natural disaster in the United States. Mortgage lenders usually require homes in risky food areas to have flood insurance. This type of insurance is also a good idea for homes in low-to-moderate flood areas. About one-quarter of flood-related claims come from low-to-moderate flood areas.
You can see the flood map for your area by typing in your address on the FEMA Flood Map Service Center page.
One good thing about flood insurance -- you don't have to shop and compare insurer rates. You can buy flood insurance by NFIP or licensed brokers. NFIP bases the cost of flood insurance on the risk of the area and home. Regardless of how you buy flood insurance, you will pay the same rates because costs vary by the house -- not by the company.
Flood insurance costs on average $700 annually. But you'll pay much less (about $150) if you live in a low-to-moderate flood risk area.
Do you need earthquake insurance?
Homeowners insurance doesn't cover earthquake damage.
If you live in an active earthquake area, you need to get either a separate earthquake insurance policy or a home insurance endorsement.
You can buy earthquake insurance from private insurance companies. California also has policies through the California Earthquake Authority (CEA).
Earthquake insurance covers:
Damage to your home and attached structures
Personal property, such as furniture, clothing, and electronics
Additional living expenses (ALE)
Earthquake insurance has a separate deductible. The deductible is a percentage of the value of your dwelling and personal belongings. Earthquake deductibles are not a dollar amount like regular home insurance policies.
Earthquake deductibles can range between 2% and 20% of your dwelling coverage limit depending on risk.
Much like home insurance, earthquake insurance costs vary greatly by company and state. It's a good idea to get at least three earthquake insurance quotes from insurance companies.
Which home insurance company is the best?
You want to make sure you're comfortable with whichever insurance company you choose.
Just because one insurer will give you the best rates doesn't mean that's the one for you.
Additionally, just because one insurer is best for someone you know doesn't mean that's the one for you.
Griffin reminds new homeowners that it is important to choose a financially stable insurance company. Financial strength ratings are available from AM Best, for example.
"Remember," he says, "you are buying a promise from that insurance company that they will be around when you need to make a claim."
Although the right insurance company for you depends on personal factors, a good place to start is with our annual ranking of the best insurance companies, based on a consumer survey, third-party ratings, and average rates.
How to shop for home insurance
You've just signed a contract on your future home. You now know the various coverage types you may need, costs you should expect, discounts you may qualify for, and what to look for in a reputable insurance company. It's time to start shopping.
After doing some insurance company research on financial stability and customer service ratings, make a list of at least three companies to get quotes from.
Many homeowners insurance companies have online quoting tools on their websites to help you begin the quoting process. If you prefer a more one-on-one approach, the companies most likely have agents available via phone to help you through the process.
Make sure that you request the same coverage from each company. This will help to ensure you are comparing equivalent quotes and will get the best deal.
Once you've collected the quotes, do a side-by-side comparison of premiums, deductibles, and coverage levels. If things are not clear, don't hesitate to ask the insurance company for clarification before you proceed.
By using Insurance.com's tool, you can see average home insurance rates by ZIP code for 10 coverage levels. You'll also see the highest and lowest rate fielded from up to six major insurers, so you can compare prices and be sure you don't overpay.
See How Much You Can Save
See How Much You Can Save
Helpful Home Insurance Articles & Guides