Why you can trust Insurance.com
Insurance.com is dedicated to informing, educating, and empowering you to make confident insurance decisions. Our content is carefully reviewed by insurance experts, and we rely on a data-driven approach to create unbiased, accurate insurance recommendations. Insurance.com maintains editorial integrity through strict independence from insurance companies.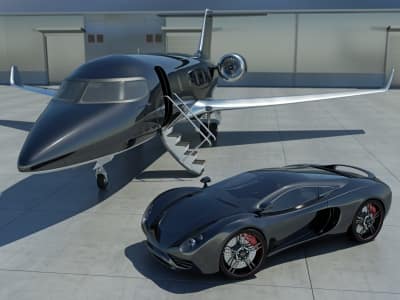 The U.S. is home to more billionaires than any other country, with 425, a dozen more than a year ago, according to Forbes 2012 report on world billionaires.
And chances are, you get some bonus services when it comes to insurance if you're a software tech titan, like Bill Gates, who checked in at No. 2 on the list with a net worth of $61 billion; or a modern girdle magnate, like Sara Blakely, No. 1,153 with $1 billion.
Take, for example, the aftermath of Hurricane Katrina.
"A number of our customers couldn't get to their homes and were worried about their fine art and other valuables. We hired and airlifted a team of private, armed security to secure their homes and supervised the evacuation of art to a Houston museum at no charge to our clients," explains Jerry Hourihan, senior vice president and national sales and marketing manager for the Private Client Group at Chartis, which specializes in high-net-worth individuals.
No doubt, protecting those valuables was in the financial interest of Chartis, but it was also a way to please clients. "It was a real win-win for the client and us," says Hourihan.
For sure, the one-percenters have unique needs. They travel the globe and have yachts, planes, multiple mansions, household help, collections of art, rare and valuable cars, and expensive jewelry.
A small number of major insurance companies cater to this crowd, including Chubb, Chartis, Fireman's Fund, ACE Private Risk Services, and Privilege Underwriters Reciprocal Exchange (PURE). They offer specialty products and services that show the access that comes with the almighty dollar.
Homeowners insurance
Standard homeowners policies have a reputation for having many exclusions, exceptions and complications, and high-net-worth individuals expect a higher standard of service and special considerations, says a 2008 report from Conning Research & Consulting. Insurers are addressing some of their issues by improving product and service offerings geared to a wealthy audience. This initiative includes:
Special coverage plans, such as excess flood and employee liability.
Services that protect against disasters, such as hurricane and brushfire protection.
Services addressing family safety, such as kidnap and ransom.
Chartis has its own wildfire prevention unit, with dozens of trucks and trained staff it dispatches to spray a client's home with fire retardant, at no charge. "Our clients pay a lot of premium, we put it back into prevention," says Hourihan.
Contrast that to a standard homeowners policy. "There are lots of limits, lots of loopholes in policies for the middle class. High-end customers can get policies without caps," says Robert Hunter, director of insurance for the Consumer Federation of America. "If a $1 million home needs to be rebuilt and it will cost $2 million, Chubb will pay that $2 million. If you're middle class with a $100,000 house that takes $200,000 to rebuild, you'll likely only get $100,000," says Hunter.
Auto insurance
There are differences in automobile insurance, too. Chartis insures very valuable cars -- $400,000 Bentleys, $10 million Duesenbergs -- and car collections. "We have car collecting experts on staff. These are not insurance people. We are an insurance company that understands these types of cars," says Hourihan.
They will go the extra mile. A client wanted his top-of-the-line Ferrari shipped by boat to Italy so he could drive while on vacation. When the ship was grounded and the client was faced with having to pay $50,000 to get it off the boat, Chartis paid the tab. "We thought it was a reasonable loss, so we paid the $50,000," says Hourihan.
Meanwhile, when it comes to auto insurance, low -and moderate-income drivers can get shortchanged. Research from the Consumer Federation of America revealed that these two groups are being charged higher premiums because of rating factors beyond their control.
In general, lower-middle-income car owners are disadvantaged by rate classification systems used by insurers. They pay higher car insurance rates because insurers use rating factors, such as location of residence, occupation, education and credit rating, which they contend are correlated with risk. But insurers often have not adequately demonstrated to regulators that these correlations exist or that they adequately reflect risk, according to the report Some of these factors, individually and in aggregate, may be surrogates for income, says the report. In some states, using income as a factor to determine rates is against the law.,
"Executives get the lowest rate versus a blue-collar worker with less education. The higher your education, the lower your rate. With poor credit, your rate goes up another 50 percent," says Hunter.
Another perk for the wealthy: the last few years, insurers that specialize in high-net-worth individuals have begun offering attractive discounts if their customers bundle an auto policy with homeowners and liability, says Jonathan Crystal, executive vice president and head of private client services at Frank Crystal & Co., an insurance brokerage firm. Additionally, because the customers have the means to absorb smaller losses, they can choose higher deductibles, which reduces their premium, he adds.
Health insurance
Although nearly 50 million Americans are without health insurance, the wealthy can pay an annual membership fee, usually $1,500 to $2,500 per person, for concierge care. This entitles them to same-day or next-day appointments, no waiting, 24/7 availability to the doctor via e-mail and cellphone, a minimum of 30 minutes with the doctor, and more.
"They still pay for regular health insurance and copays, this is about access -- seeing a doctor when you want," says Steven Ullmann, co-author of "Is the United States Ready to Embrace Concierge Medicine?" published in the health care journal Population Health Management. Ullmann is professor at the University of Miami's School of Business Administration and director of the university's programs in health sector management and policy.
In concierge medicine, it's about building a comprehensive wellness plan. "Your primary care doctor becomes your health coach. The patient should be primary in primary care," says Mark Murrison, president of marketing and innovation with MDVIP, a national network of 170,000 concierge physicians.
Life insurance
While middle class folks typically buy life insurance to cover funeral costs and some of their household's ongoing expenses, life insurance has other purposes for the wealthy. "It's not for the economic security of their family, but to pay taxes, endow a charity or for generational wealth transfer," says James Kane, president of HUB International Personal Insurance.
High-rollers don't even have to pay out of pocket to for their premiums. There's something called premium financing that allows wealthy individuals to secure a $1 million-plus life insurance policy without tying up their personal assets in order to cover the policy premium. Arrangements can be made with financial institutions to pay the premium to the life insurance companies, the cost of which is covered by a short-term loan. The policyholder makes regular loan payments, but the insurance premium has been paid by the financial institution, keeping the life insurance in force during that time.
Liability insurance
For all the advantages of wealth, it can also make those who have it targets. Liability risks that elude most people confront the affluent. High-net-worth individuals may face more complicated employment practices with liability exposures that come with holding senior executive positions.
They also may have increased risk for child abduction, home invasion, stalking and carjacking, particularly in an era where information is readily available online. Most homeowners insurance policies do not cover the financial expenses related to these incidents, which can include lost wages and costs for medical and psychiatric services, professional security consultants, and temporary relocation, among others, according to Chubb's white paper, "Managing the Emerging Property and Liability Risks of the Affluent." Such coverage is available through high-end insurers. They don't mind bending over backward for the wealthy. Says Crystal, "Serving them has historically been very profitable, and they are loyal customers."