Why you should trust Insurance.com
Insurance.com is dedicated to informing, educating, and empowering you to make confident insurance decisions. Our content is carefully reviewed by insurance experts, and we rely on a data-driven approach to create unbiased, accurate insurance recommendations. Insurance.com maintains editorial integrity through strict independence from insurance companies.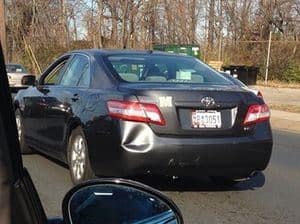 Boring. Beige. An appliance.
Those are the kinds of terms auto enthusiasts have long pinned on the Toyota Camry, the midsize sedan that typically outsells every other vehicle save the Ford F-Series pickup in any given year, yet remains virtually invisible.
"People who drive Camrys don't care about cars," sniffs a member of an online Volkswagen forum. He lays out the logic that dogs Camry drivers everywhere:
"Not caring about cars means you don't care about driving. If you don't care about driving it means you aren't a good driver because you can't be good at things you don't care about. Therefore, if you buy a Camry, you are not a good driver."
The logic seems strained until you consider the so-called evidence, something the Camry-haters have amassed in vast quantities. Critics have created Facebook pages, websites and countless forum threads dedicated solely to the Camry and the people who drive it.
Sure, it's fun. Posters scan parking lots and news stories for the telltale Camry mishap. When no one's hurt, what's not to enjoy about the Camry that somehow found itself straddled over a sidewalk or decorating a stairwell?
But it's the Camry Corner – the punched-in edges of the rear bumper – that seems to define the discussion. "A two-fer!" one poster writes below a snap of side-by-side Camrys with nearly matching dents. Once you notice them, you notice them everywhere.
While the comments may get mean, they may also miss the point. That dent may not prove how clueless the Camry owner is, but how smart.
Bumpers aren't what they used to be
Yes, bumpers used to be made of steel. But that was back when rigid car exteriors were considered a good thing. By the 1970s, engineers knew that if a vehicle's exterior could be made to absorb some of the energy of a collision - a.k.a. crumple - it would spare occupants much of the jolt.
Today's bumpers are safer. Typically composed of a metal frame, a foam absorber and a plastic cover for aesthetics and aerodynamics, contemporary bumpers act as a cushion. They give so the people inside don't have to.
"Some of the Camrys, like the '03 to '06, they have a lot of space between the bumper cover and the metal body. They get a little hit on the corner then the whole corner is going to be bumped in," says M.J. Hernandez, an estimator with Globe Auto Body in Los Angeles.
The center of a car's bumper may absorb a light hit and pop back out on its own, he said. In the corner, the same light impact creates more friction.
"In the corner it normally gets heated to the point where it just stays," he said.
The problem is that car manufacturers tend not to build to tougher standards than are required, says the Insurance Institute for Highway Safety. In 1982, the U.S. government cut bumper standards in half; today's bumpers are required to protect the car's lights, sheet metal and safety systems in a 2.5-mph front or rear crash (and can suffer severe damage themselves in the process) or a corner-strike at 1.5 mph. Before 1982, the standard was 5 mph front and rear and 3 mph for rear-corner impacts, with only small amounts of damage to the bumper in the process.
As a result, the IIHS says very few cars receive good marks for bumper durability. In 2009, the Toyota Camry outperformed most of the midsize sedans it tested, meaning it did a better job of protecting the more expensive car panels and lights.
Not all insurance claims pay off
Billy Walkowiak, owner of Collision Safety Consultants in Belmont, N.C., says owners should always seek a free, professional inspection to ensure a car is still safe following any incident.
"If you get it verified that there's nothing else damaged except the skin, except that urethane cover, then you're safe," he says. "But there's no way you can tell what damage is done to a vehicle by looking at the external of the vehicle only."
To fix bumper damage only, a body shop may quote a repair at $300 to $600 or replacement at $1,200 to $1,600. Yet a frugal driver well-versed in the insurance market can quickly find the downsides to fixing that unsightly pockmark.
If it's your fault and you don't have collision insurance, you'll pay out of pocket.
If it's your fault and you do have collision insurance, you'll have to pay your deductible, usually $250 to $1,000. "A cosmetic repair may wind up costing little more than that," says Penny Gusner, consumer analyst at Insure.com. "So an insurance claim that pays out only a few hundred dollars could contribute to raising the driver's rates down the road." (See "The fender-bender: To claim or not to claim.")
If it's not your fault, the other driver's insurance may pay, but the car could be tagged with an accident that shows up on a pre-sale CarFax report, which could affect a sale later. (Of course, leaving the dents could also affect a future sale, but at least there's no mystery about what the damage was.)
If it's not your fault, the other driver may offer to pay out of pocket to avoid his own insurance claim. Some owners may just keep the cash and avoid the hassle of fixing a small dent.
"They're just everywhere, and a lot of people don't care about their dings and their dents, so they don't remove them," says Don Kavanagh, of Dent Kraft, in Minnesota, who suggests people consider paintless dent repair, a cheaper alternative.
Consider the future
A second car insurance claim in a short period of time can cause your rates to skyrocket, even if both claims were minor.
A Quadrant Information Services survey commissioned by Insurance.com compared rates from six car insurance companies in 10 ZIP codes in every state. A driver with a single at-fault insurance claim over $1,000 saw an average rate increase of 29 percent. But the same driver with two at-fault claims saw an average increase of 99 percent.
"That's much worse than even multiple speeding tickets," Insurance.com Managing Editor Des Toups says. "Tickets say you're a potential risk. Claims mean they've actually written checks -- and insurance companies hate to write checks."
Not every company rates your accident history the same way. If you've just seen a big increase because of multiple claims, it pays to shop around and compare car insurance quotes.
The differences between companies can be huge. In Sacramento, California, for example, a driver with two accident claims could see an increase as small as 66 percent or as great as 281 percent, according to the Quadrant data.
Helpful Auto Insurance Articles & Guides