Why you should trust Insurance.com
Insurance.com is dedicated to informing, educating, and empowering you to make confident insurance decisions. Our content is carefully reviewed by insurance experts, and we rely on a data-driven approach to create unbiased, accurate insurance recommendations. Insurance.com maintains editorial integrity through strict independence from insurance companies.
Is there a link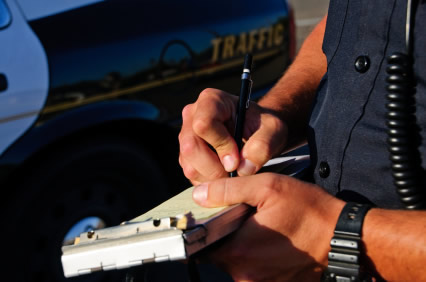 between the type of vehicles folks drive and the number of moving violations they rack up? A recent study by San Francisco-based Quality Planning Corp. 'a firm that validates policyholder information for car insurance companies' clearly demonstrates that what we drive affects how we drive.
The study identified 10 vehicle makes and models its authors characterized as "spirited," and another 10 vehicles described as "cautious."
The spirited vehicles had the highest percentage of violations per 100,000 miles driven, according to Quality Planning Corp. Topping the list was the Mercedes-Benz SL-Class convertible, with four times the number of violations compared to the national average.
The study echoed a 2009 Quality Planning report that found few SUVs and hatchbacks on the top 10 list of most-ticketed vehicles. That suggests SUVs and hatchbacks are driven more conservatively than other models, according to the study's authors.
Vehicles with most violations
Mercedes-Benz SL-Class convertible
Toyota Camry Solara coupe
Scion tC coupe
Scion xB hatchback
Mercedes-Benz CLS 63 AMG sedan
Acura Integra coupe
Pontiac Grand Prix sedan
Mercedes-Benz CLK 63 AMG sedan
Volkswagen GTI hatchback
Vehicles with least violations
Buick Rainier SUV
Mazda Tribute SUV
Chevrolet C/K-3500/2500 pickup
Kia Spectra sedan
Buick LaCrosse sedan
Saturn Aura Hybrid sedan
Oldsmobile Silhouette minivan
Chevrolet Uplander minivan
Hyundai Tucson SUV
Pontiac Vibe SUV
Racking up violations will increase your car insurance rates. So in addition to the expense of the tickets, drivers of "spirited" vehicles may also pay bigger insurance bills. You'll have to pay high-risk auto insurance because you're in a higher risk category.
Results don't surprise experts
John O'Dell, senior editor at Santa Monica, Calif.-based Edmunds.com, noted that most of the suspects on the list are "peppy vehicles."
He also says Mercedes drivers tend to speed more often than drivers of other vehicles.
"These people see themselves as sporty, performance-oriented drivers," O'Dell says, noting Mercedes vehicles tend to have powerful engines that make speeding easier.
However, O'Dell notes that powerful engines weren't characteristic of every vehicle on Quality Planning's list.
"Any vehicle on the road can exceed the speed limit," he says. "The Scion tC is not thought of as having a big, turbocharged racing engine. But it's designed as a sports coupe, and that appeals more to younger people who see themselves as sporty drivers."
James Bell, executive market analyst for Irvine, Calif.-based KBB.com, says motorists who drive the most-ticketed cars are likely to fall into one of two groups:
The first group is comprised of individuals with a sense of entitlement who not only feel they deserve sleek Mercedes and giant Hummers, but also may believe they are above the law, he says.
The second group is likely made up of "reckless, individualistic young people," Bell says. "The Scions, the GTIs, the Acuras, those will be the import, tuner-type crowd, making modifications to their vehicles, then taking them out on the road to test them -- and getting into trouble."
Most cautious vehicles
Quality Planning's study also identified the most "cautious vehicles." The Buick Rainier and Mazda Tribute topped this list, which is dominated by American-made sedans, minivans and SUVs.
Indeed, Quality Planning noted that eight of the top 10 on the cautious vehicles list were SUVs or minivans, classes of vehicles often used for ferrying passengers and children, including those in car seats.
That suggests it's the act of carrying passengers rather than a make or model that may spell the difference in the driver's violations, according to the study's authors.
Helpful Auto Insurance Articles & Guides